Ashwagandha is considered the "queen" of Ayurveda, the traditional Indian medicine. It has been known for thousands of years and is currently receiving a lot of attention due to a number of recent studies. Ashwagandha is also called "sleepberry" and is classified as an adaptogenic plant. 
The Federal Institute for Risk Assessment has examined numerous plants and herbal preparations and their intended uses. According to the institute, the sleepberry is used as an analgesic, antipyretic and antimalarial in traditional Chinese medicine and as a remedy with sedative, life-prolonging, rejuvenating and memory-enhancing properties in Ayurveda. [1] 
However, ashwagandha has also become the focus of modern science. Japanese sleep researchers found that the aqueous extract of ashwagandha leaves has sleep-inducing effects. Triethylene glycol was identified as the active ingredient. [2] 
Organic Ashwagandha 500 by Vitality Nutritionals contains pure ashwagandha root powder in highest possible purity and organic quality.  
Which ashwagandha supplement for what purpose?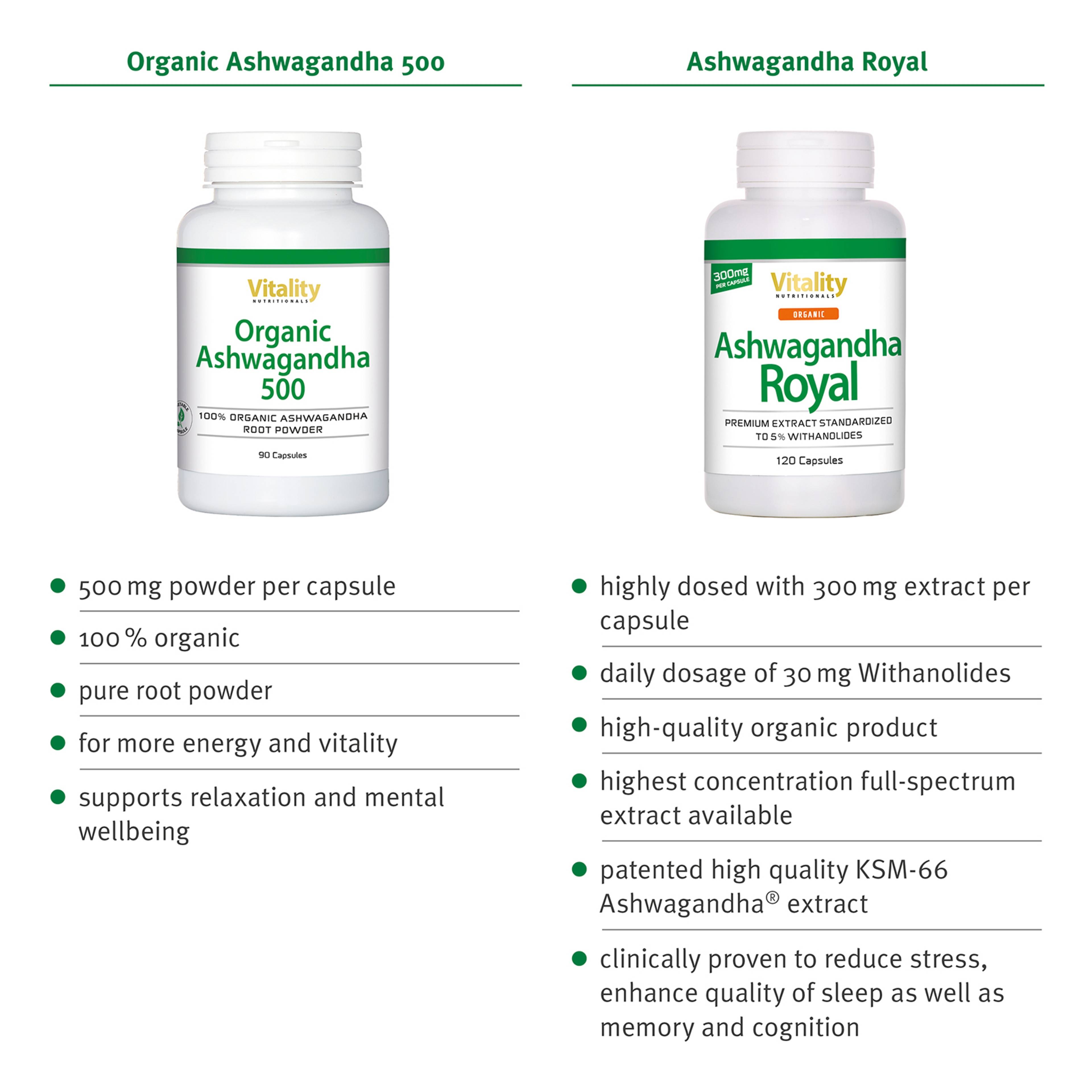 Wide range of benefits of ashwagandha 
Ashwagandha is believed to have many beneficial properties. It is considered the most important adaptogen in Ayurvedic medicine. Adaptogens are supposed to strengthen our vitality and make us more resistant to stress. By harmonizing all bodily functions, they are said to promote general well-being and mental health. 
*The health claims in relation to ashwagandha have not yet been conclusively evaluated. However, due to the number of studies, the efficacy described here can be sufficiently substantiated. [3] Ashwagandha ... 
has antioxidant and adaptogenic properties 
helps the body to cope with stress [4] 
contributes to emotional balance and general well-being [5] 
can support the building of muscle mass [6] 
can support learning and memory [7] 
supports the onset of sleep [8] 
supports energy levels and vitality 
supports mental function in the elderly 
supports health of the female reproductive organs 
supports male sexual function [9] 
helps maintain sperm motility and sperm count [9] 
Nutritional supplementation with Organic Ashwagandha 500 – only 1 capsule of Organic Ashwagandha powder daily! 
Organic Ashwagandha 500 powder by Vitality Nutritionals is made by drying and grinding the whole root. The powder therefore contains a broad range of both active and inactive compounds. The capsules are ideal to benefit from the advantages of ashwagandha root in long-term use. Each capsule contains 
500 mg pure ashwagandha root powder 
in highest possible purity and organic quality 
lactose free, gluten free, vegan 
Organic Ashwagandha 500 is guaranteed free of contaminants or genetically modified substances and suitable for vegetarians and vegans.  
For whom are organic ashwagandha capsules ideal? 
People who are sensitive to highly concentrated ashwagandha extracts: The ashwagandha root powder contained in the capsules can be the ideal alternative. 
People who are often stressed: Studies have shown that ashwagandha helps the body deal with stress. 
People who experience sleep problems due to stress: Stress and sleep disorders often go hand in hand. Ashwagandha can also support sleep quality and quantity. 
People who often have difficulty concentrating due to stress: Ashwagandha may support cognitive functions, including memory. 
People who want to build muscle mass and/or lose weight: Ashwagandha can be a worthwhile supplement for all active people. It not only supports energy and vitality, it can also help to build muscle mass.  
Men with fertility problems: Ashwagandha is traditionally used in Ayurvedic medicine as an aphrodisiac to treat male sexual dysfunction and infertility.